What Will Make Your Property Sell Faster?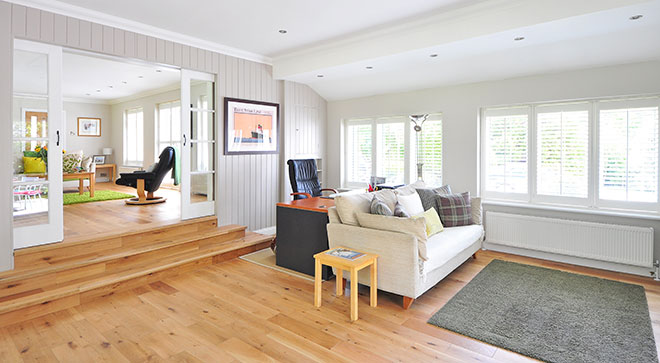 There are many improvements you can do to your home to ensure a speedy sale for the price you want.  While it is important to make sure everything is clean and tidy and no repairs need to be done, the seller will often do some kind of quick renovation to enhance the look of the home.  Repainting or papering walls is a popular way to freshen up the walls and ceiling of the house, but what about the floor? Should you get the carpet cleaners in – or change your flooring to tiles or timber? It depends on two main things.
The condition of the carpet
If it is still in good repair and not too grubby, having your carpet professionally cleaned would certainly cost less than laying tiles or adding a floating floor. In fact, you will probably be amazed at how new the carpet looks after cleaning. However, if the carpet is really old, it may be better to replace it. Look carefully at it to see signs of wear and tear such as frayed edges or thinning of the fibres in high traffic areas.  This type of wear happens so slowly you tend to not notice it until your mother-in-law is about to visit – or until you put the home on the market. The real estate agent will go through your home and make suggestions on how you can improve it. Then you'll look at it all with new eyes.  If you find the carpet is starting to get shabby and looks grubby, replacing it is a good idea or the very least a good thorough professional carpet clean would be in order.
Your budget
Not everyone wants to spend heaps on the floor when they are not going to benefit. But you have to remember that you will benefit in the long run if a new floor makes your home sell quickly. When you put the home on the market, it's like putting your life on hold. You can't settle to doing anything until the sale is over and you can purchase your new home. So, how about a new carpet?
Unless the colour is generic enough to match with everything, it may not offer the 'wow factor' that will make a buyer snap up your home quickly. Timber floors have a beautiful ambience that goes with any kind of decor. Tiles can also be extremely attractive. Both are durable and easy to maintain. However, there is the budget to consider. Is it worth it?

It is a good idea to discuss it with the real estate agent. They have a good idea of how the market is going and what will make a home sell faster. You may be able to get the cost back by adding it to the price of the house.