Why Designer Garden Pots are Essential for a Balcony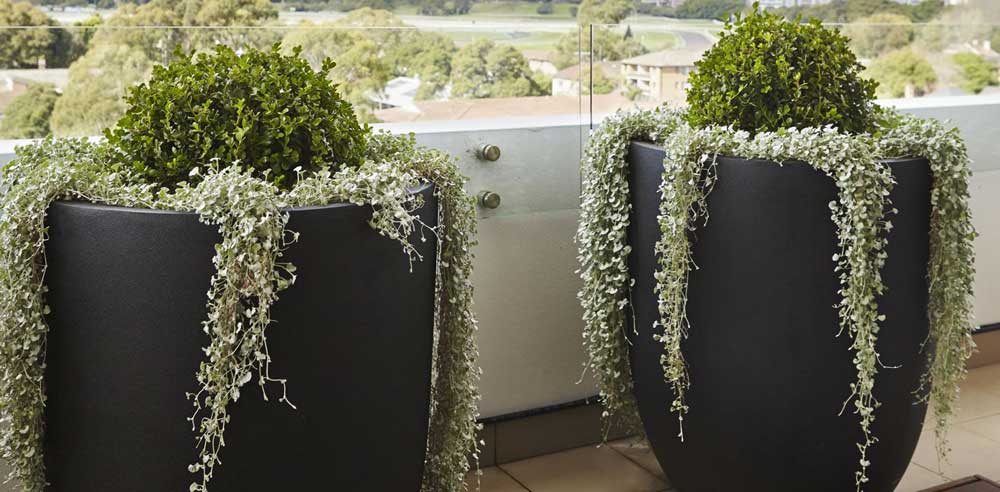 There are several reasons why designer garden pots are essential for a balcony. When you have pot plants outside on the ground level there are many elements apart from the actual pots that are visually attractive; the lawn or pavers they are standing on and the surrounding garden with its shrubbery and other design elements.
But when pots are on a balcony, much of that is missing. Any view is too distant to impact the visual aspect of the pot and so there is only the floor and walls, along with any other pots or ornaments you have on display. So the pot and the plant in it make the main visual impact statement. In this case it is important to have a pot that looks really attractive.
They offer colour
Designer garden pots tick the boxes for being visually attractive since they come in an array of colours not usually found in common nursery pots. Their shape is more unusual as well, which offers another visually appealing element overall, especially when you have chosen the shape of the plant to enhance the shape of the pot. You could have a mounding plant in an oval pot, or perhaps grow one with upright, sword-shaped leaves for contrast.
They suit the climate
On a balcony, the climate is harsher, being hotter and windier than most spots at ground level. Designer garden pots help the plants to survive because their walls are thicker and offer some amount of insulation from the heat.
They enhance indoor decor
Designer pots are more suited to indoor decor than the usual garden pots are. Many have shiny surfaces or beautiful shapes that enhance your indoor decor, since the balcony can be seen from indoors and vice versa. If you were to use ordinary old black plastic pots they wouldn't look half as good, even if they were painted.
They give inspiration
When you garden on a balcony there is limited space, so every speck of it should be utilised to provide colour, shape or some other element of beauty. Designer pots will help you with this often difficult chore and may offer inspiration in other ways as well. When you see a beautiful pot the creative juices start to flow and before you know it, many other entrancing ideas are buzzing around in your mind, just waiting to be put into action.
The next thing you know unusual plants, ornaments or other decorative elements have popped up to make your balcony the place to be. The only thing you need to watch for is overcrowding. Less is more when it comes to small spaces. That said, if you love to cram as many plants as possible into your balcony jungle, go ahead. You are the only one that needs to be pleased with it.